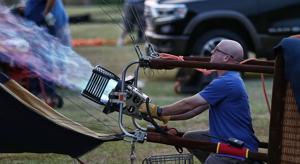 The Paris Balloon and Music Festival got hot on Friday afternoon at Lamar County Fair Grounds when the Chris Jones Band opened with country and blues music that lasted until the evening when the big balloons received the green flag from balloon Mr. Scott McClinton. They continue to shine
Spectators saw the balloons glow like giant bulbs.
The balloon flew around the area on Saturday morning and is scheduled to do so at 7 a.m. today, according to weather and wind permits.
Caroline Peterson, president of the Paris Balloon and Music Association, said about 5,000 people turned out for the event, which was not held last year due to the 19 epidemics.
"Our main goal is to bring balloons and music to the community, but also the arts," he said.
They brought a special balloon for this year's festival, a balloon called Air Medello.
You guessed it. This is an armadillo-shaped balloon.
"He's dressed like a shepherd," Peterson said.
He noted that the hot air balloons are administered by the Federal Aviation Administration and pilots must be licensed.
"We had some good flights this morning (Saturday)," he said.
On Saturday, some people were able to board a tuition balloon for a fee. Before returning to Earth, the balloons went up in the air.
The annual event, which also provides scholarships for students in the area, began in 2016 after Paul Ray and Lena Spencer's trip to the Big Balloon Festival in Albuquerque.
"They decided they wanted something to start in Paris," Petersen said.
Patterson said Lena was a member of the Paris Arts Alliance and Paul was a member of the Paris Blues Society, so the two groups combined the first three events to be linked to the Tour de Paris in July.
No event is complete without vendors and this year's event was attended by about 20 people who sold food, clothes, gifts and other items that provided information about various services.
The number of vendors was lower than in 2019 as a whole, a fact that Peterson said was due to the long-term effects of Covid 19.
Still, vendors say things are going well.
"We had a busy night," said John Richmond of Sulfur Springs.
"Our grandparents will go and play with the grandchildren," he said.
He said on Saturday that a face painting was going on at Rachel Plunkett's booth on Friday night.
"It was really good. We had a good turnout," he said.
Patterson said there was also a "foreign" painting zoo for children, featuring kangaroos, laziness and lemurs.
.