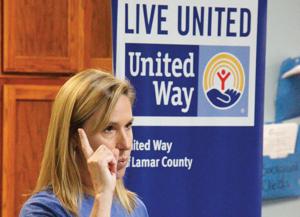 Lamar County's United Way began its annual fall campaign with the hope of raising $ 550,000 by mid-Monday.
"In the spring, before the closure of Turner Industries, which typically accounts for one-fifth of our campaign's total dollars, and before the fourth addition to Cove 19, our board of directors decided for the first time in years that our The campaign's target is ڈالر 550,000, said Executive Director Jenny Wilson.
"We know how to reach this lofty goal, we need more community support than ever before," he added. But we also know how incredibly large this community is
The United Way Campaign relies not only on individual donors and small businesses, but also on donations to cut wages from workplace campaigns. Workplace campaigns are run entirely by volunteers who form the "campaign cabinet." This year's cabinet includes Randy Tuttle and Debra Bridges (City of Paris), Jane Adams (County), Candace Davidson (First Federal), Cindy Ringwald (Liberty National Bank), Greg Wilson (Lamar National Bank), Chance Abbott (People's Bank), Jennifer Ray and Jericho Legance (PISD) Angela Chadwick and Carla Coleman (NLISD) Lauren Tag and James Hall (PRMC) Lori Reeds (Campbells) Clint Chatwood and Peters Jordan (KC) Brenda Wells (Toyota) Jason Exom (RK Hall) Melissa Gordon (HWH), Kenneth Webb (PJC) and Mehr Pankaj (Hotel).
Any business or company interested in campaigning in the workplace can email. [email protected].
All donations will go to 20 partner agencies and United Way to support its own programs. In 2021, UWLC disbursed more than 30 430,000 to its partners and allocated more than 90 90,000 for in-house programming, particularly rent and utility assistance, and education / youth programs.
To join this year's campaign, send a donation to PO Box 1, Paris, TX 75461 or online. www.lamarcountyuw.org. You can help United Way reach its goal by participating in their online silent auction on September 16.
"We know most people want to help, they want to give back. Sometimes we don't know how it is. Here comes United Way," Wilson said.
.