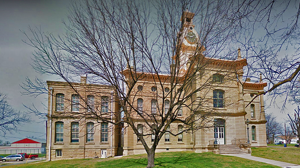 Clarksville – After some debate, Red River County commissioners voted 3-2 to equip LifeNet Ambulance, which primarily operates the county with a chest compressor.
"As far as we're from a hospital, I thought it would be a good thing," said Jeff Moore, commissioner of Precinct 3. "It will help rescuers."
Precinct 1 Commissioner Donnie Gentry wondered why LifeNet could not provide its ambulance with such devices. The county recently signed a five-year contract with LifeNet at an annual cost of $ 199,000.
"We're already paying them $ 199,000. They can buy their own," he said.
Gentry felt that if the county had purchased the compressor, it should be placed in one of the county-owned fire trucks.
He said it should be in the volunteer fire department. "They are the first people to appear on the scene."
Gentry also wanted to know what ambulance crews were doing without a compression unit in past emergencies.
"Manual compression," Moore said. "(The compressor) will work for the patient and the rescuer."
Gentry and Precinct 2 Commissioner David Hutson voted against Moore's motion to equip the ambulance with a compressor, while Moore and Precinct 4 Commissioner Danny Haley voted in favor.
"I think we need it," said County Judge LD Williamson, breaking the tie.
"If it saves a person's life, it's worth it," Moore said after the vote.
Commissioners will also have to seek funding from the state for paid quarantine leave for firefighters, peace officers, detention officers and emergency medical technicians to pay for illegal legislative mandates.
House Bill 2073 was passed and subsequently signed by the Governor in June, calling on government agencies to prepare and quarantine paid leave for firefighters, peace officers, detention officers and emergency medical technicians. Implement duty. "
The time for payment of quarantine is in addition to sick leave, the judge noted.
The commissioners assisted Gentry in getting a new truck for the county and getting rid of some old equipment.
"I found a truck. I'm going to check it out," he said.
The commissioners allowed it to cost up to 30 30,000.
He said he would also try to auction off some goods, so that he could upgrade with new equipment.
The commissioners also voted to approve the budget amendment, saying the recent addition of June as a county holiday was necessary. He approved holiday pay for those who would be scheduled to work on the day off.
The commissioners also voted to continue the meeting at 9 a.m. on the second and fourth Monday in October, but then voted to meet on October 12 because Columbus Day falls on October 11.
.