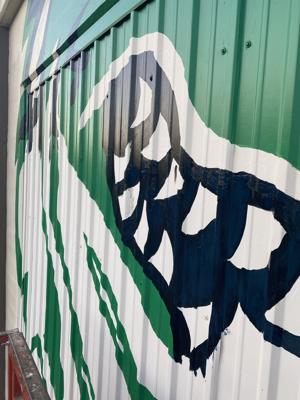 The Nevis Stadium on the Paris Junior College campus is being painted with a new paint by a local artist.
Facing the street of the stadium is a huge, fire-breathing dragon painted by Sam Brown who painted a picture of the college's mascot Pyro.
Then, there's the other one inside the college gym.
"Sam has done a great job of painting two walls on the college campus. This is something we've been wanting to do for many years." We have been allowed to paint these beautiful walls through Middle School.
Brown didn't have to use his imagination much to create a painting – an artist painted a year ago in college.
"They made it a lot easier for me," he said.
But he had to rely on his painting skills and techniques, which he learned in college at East Texas State University (now Texas A&M Commerce) and honored by doing weird commercial art jobs for many years.
Brown, a Parisian, now works at his family's business MFO, Mattress Furniture Outlet on Lamar Avenue, but he enjoys taking an art job for fun.
He said his other work in Paris includes a street view, sweet and nutritious journey through the city's streets.
He has also worked at Metroplex, but a large part of it was to paint the walls and landscapes in people's homes.
He credits his North Lamar High School art teacher, Ann Tsunner, for emphasizing his interest in art.
"I was going to be an architect major," he said of his early college plans. "But in high school, I decided that I would prefer the creative process to the engineering process.
"It inspired me to pursue my passion for art," he said of Tschoerner. "I decided to reflect."
He received a scholarship to East Texas, and a degree in art.
His wife, Jennifer, also helped him revive his love of artwork.
He was working outside of the art world, but making art was always on his back burner.
"I really wanted to do something I liked. They were the ones who suggested I go and paint the walls." "What could be worse?" she said. If it's scary, all you have to do is paint it.
He said Brown had to work three to four hours in the evening to paint the logo in the stadium.
He was assisted by a lift in the Dragon Head painting.
At the gym, he worked four evenings on painting with a three-hour shift.
Images are identical in red, green, yellow and black.
Gina Bowman, a college regent, hired Brown for the job.
He said that he is a very good graphic artist. "He's very careful and he did a great job."
.