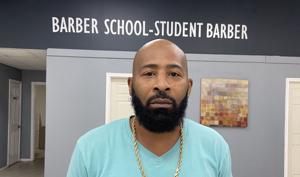 Ladarius Nelson is more concerned with teaching barber skills than a Parisian returning to his hometown to open the True Elevation Barber and Beauty Academy at Williamsburg Shopping Center, 1585 Clarksville St.
As a young man who took to the streets instead of following the example of his hardworking parents, Nelson said he wanted to reach out to today's youth to make them aware of the opportunities available.
Nelson shares his passion for the afternoon meeting of the Paris Ministerial Alliance last week at Our Lady of Victory Catholic Church.
"I grew up in a house where I saw produce, and where I saw people working every day," Nelson said, however, noting that he dropped out of high school in tenth grade on the streets. Went to where he started selling drugs. "Of course I was caught, and I was imprisoned."
Nelson said he spent time in Bonham State Prison, where he only learned to be a better criminal. After a while, he returned to the streets, and at the age of 19 he went to prison with serious criminals.
"I had to go through a treatment program in prison where I learned different ways to control my negative behavior," Nelson said. "The program was bright, and I got my GED in prison, was saved and was baptized in prison.
"When I was 15, I first heard my mother say she was proud of me," Nelson said.
Nelson enrolled in a barber school out of prison in 2008 and began working a year later. Until 2012, he had his own shop in Dallas, he returned to barber school in 2015 to become an instructor and started teaching at th = e barber school earlier this year when he closed his shop in Dallas and Decided to come back To Paris.
"I'm back to open schools and help the children of this community have a different mindset, to give them a sense of control in their lives," Nelson said. In addition to the academy, Nelson said he plans to provide a learning center to teach basic life skills, which are key to success in life.
Nelson said the academy offers both part-time and full-time classes with a paid plan to make the program affordable. A high school diploma, or equivalent, is required for enrollment, and a pre-enrollment interview is required. For more information, or to schedule an interview, call 903-900-3334 to talk to an enrollment specialist.
.