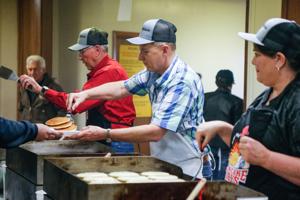 The fundraising event for the Queens Club of Paris, the popular and much-loved annual Pancake Day, has been canceled for the second year in a row as the Cove 19 epidemic continues and local issues continue to escalate.
Jimmy Stead, president of the club, said: "After much discussion of all the information available at the moment, the board of directors of the Paris Cavanias Club has decided that we did not schedule our pancake day on October 8 and 9. " "We are heartbroken that we had to make a decision, but considering all the current factors and the things involved, we think it's the right decision."
Pancake Days is the largest fundraiser of the year, typically raising funds by feeding more than 11,000 participants who support the club in community service projects such as enrolling students in the Dolly Parton Imagination Library program, Wheel Installing chair ramps and providing college scholarships.
"We remember doing it for the community," Stade said. "We plan to return to our usual Pancake Day schedule in March next year, and we want our supporters to know that our club has almost The money raised two years ago has been returned to our community in all the ways in which Kiwani works for us. We look forward to celebrating the biggest Pancake Day next spring.
The club donated pancakes to those in need after the devastation caused by Hurricane Laura in Louisiana last year.
.