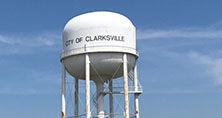 Clarkville – A resident spoke during a public hearing on tax rates Tuesday night at Clarksville City Hall.
"You're fixing a lot of people to pick sugarcane," property owner Jack Yucom told council members about the proposed tax rate of $ 100 cents to 79 79 for the coming fiscal year. "You guys need to think about what these people make."
Yukum further stated that he did not agree with the valuation of some of his properties.
"I will dance in the street," he said of his latest assessment.
Councilor Gary Gray explained that he was talking to the wrong board about it, saying it was an appraisal board that reviews property values.
Once the public hearing closed, Jimmy Holder, who owns a gameroom business in the city, told the council he should charge more for the city's business "stickers."
"We pay the city a sticker fee, but the city should charge more. The city can get more than the fees and this will strengthen the police and fire departments." We strive to be an asset to the community. "
Matt McEdow, director of City Public Works, reports on his department's recent truck sales results.
"I was hoping to raise 15,000, but we raised 23 23,896," he said.
"We made a great turnout. We got rid of a lot of extra stuff," he said of the extra funding for the city.
Councilors also voted October 30 to create an "official" trick or treat night. On this day, Clarks Well Youth Connection will host its Halloween celebration, and there will be candy gifts around the square.
.